Make your Business Automated by CRM Softwares
TAKES CUSTOMER SATISFACTION TO THE HIGHER LEVEL
Customer Relationship Management is an important marketing weapon used in managing your customer information. With a powerful team of CRM developers, we have built numerous CRM solutions that are helping corporations and enterprises in handling a large amount of data and improving customer interactions. They sincerely examine your business capabilities and implement a CRM tool to create innovative and functional CRM software solutions.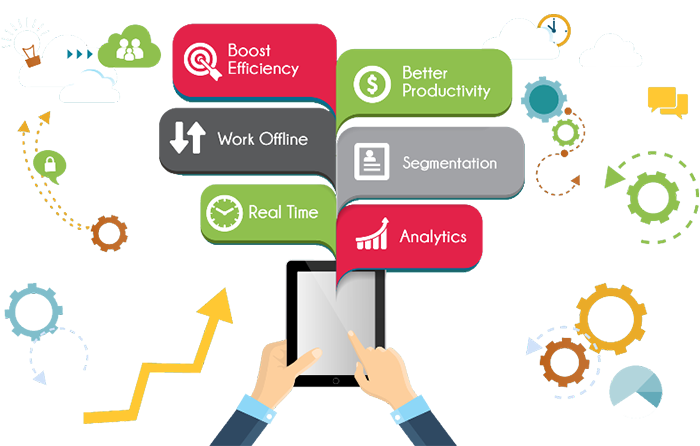 We develop enterprise-ready and extremely scalable CRM software in order to meet CRM challenges and opportunities:
CRM Customer Services:
Here at GoOnlineServices, our team of business analysts analyses the business requirements of the client and offers solutions for improving operational efficiency. If you are having any queries or ideas associated with the business process, you can simply refer to our professionals to get an optimum solution.
CRM Implementation:
We help our clientele to meet a high level of performance by implementing various innovative features in CRM software. Address your business aim, improve customer relationships, and decrease the overall costing of ownership with our CRM implementation services.
CRM Development Solutions:
In the process of CRM development, we deeply analyze the scope of your business and list out the different vital features of the CRM software that can be utilized efficiently for constructing the productive CRM Software Development solutions for your company's business.
CRM Integration Solutions:
Our CRM software developers support your business with advanced CRM integration services. Our swift approach as per the necessities of business helps you in increasing your business reach.
CRM Migration Solutions:
Our migration services deliver additional support by swapping business operations or other important information onto a new CRM software without breaking any rules and regulations. CRM Data Migration services, CRM to CRM Migration services and CRM Porting are some innovative CRM migrating solutions used by our expert team. 
CRM Maintenance and Upgrades:
At GoOnlineServices, you will get 24×7 support and maintenance services. Our goal is to enhance your customer relationship management and for this, we provide an unbeatable CRM System with seamless channelizing communication.
Practice active listening and follow through
Qualify your leads & recognize the value of word your customer will love you